Sustainability Message from the CEO
With our corporate culture of integrity,
we are committed to enhancing the value of the IKO brand and helping to resolve social issues,
to create a corporate group that is trusted by all of our stakeholders.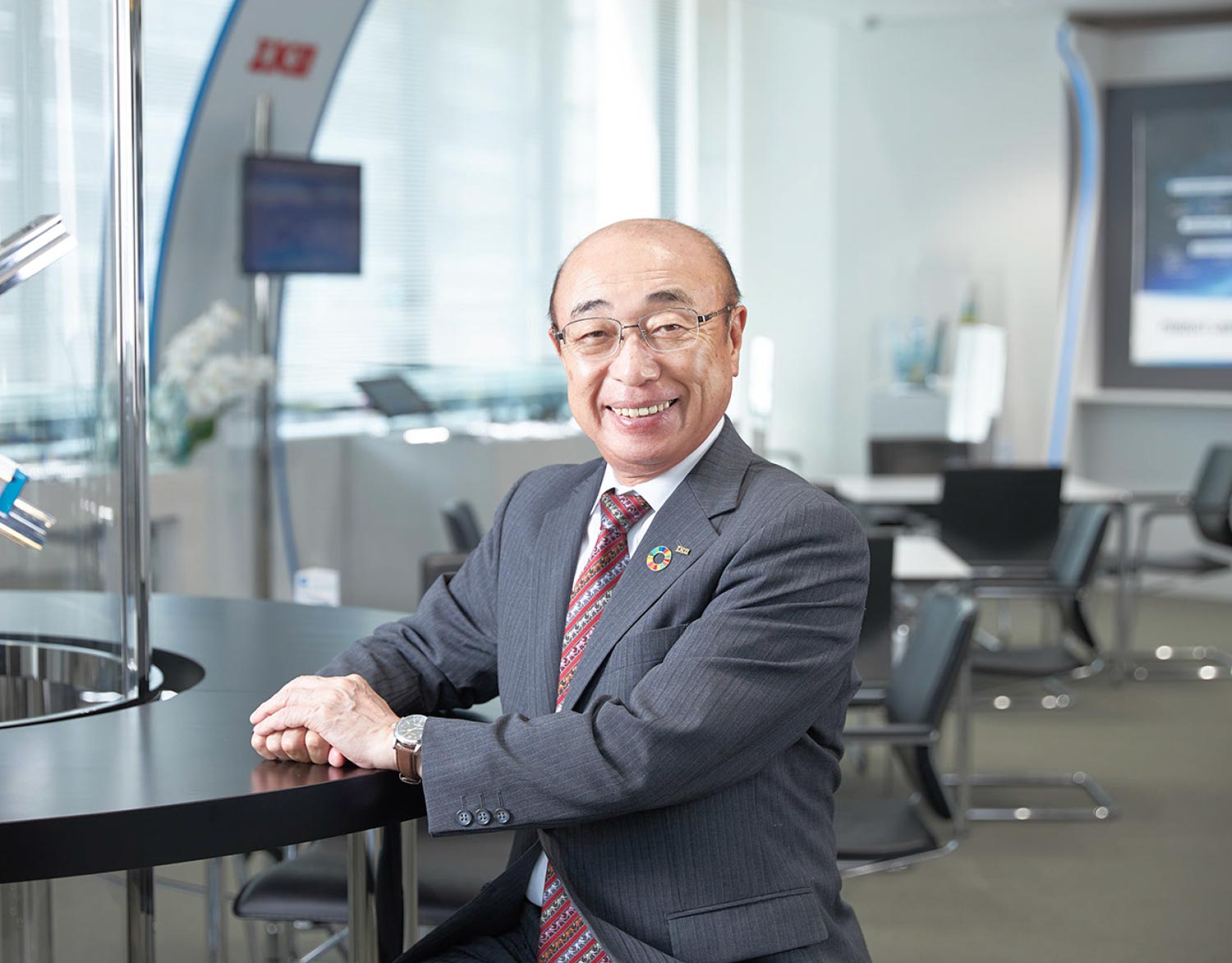 President and CEO

The sincere attitude of every employee is the source of our trust, reliability, and high quality.
What particularly impressed me when I joined the Company was the earnestness and sincerity of the employees. Every employee is sincere in his or her work and works hard to tackle challenges. I believe that this dedication to work is the reason customers and society trust Nippon Thompson, and that this integrity guarantees the high quality of our products.
We believe that our corporate culture, with the emphasis on the importance of working with integrity, is the foundation of the Group's superiority and is an asset that must be passed on to the next generation.
What we have focused on in our management to date
When I became Managing Director and General Manager of the Corporate Planning Department in 2010, my first major task was to formulate a medium-term business plan. Until that time, we had never developed a medium-term business plan because the demand for our products is highly volatile and the business environment is difficult to predict. However, for the Group to grow sustainably, it is essential for all employees to understand and share the vision of what we are aiming for in the future and to mobilize our combined strengths. In addition, as part of the process of realizing our long-term vision, it is necessary to formulate a mediumterm business plan for three to five years and to continue with these initiatives. Fortunately for us, the president and senior managing director at the time agreed with my idea, and we made a start on formulating the first medium-term business plan that covered the following three years. In drafting this plan, we had thorough discussions among the managers and employees about the future direction and strengths of the Group, which fostered a sense of unity among the employees that transcended the boundaries of the organizational silos. Looking back on those days, I think it was also an enormous achievement to share, among the Group's employees working around the world, the philosophy and values that are cherished by the Company.
Nippon Thompson's vision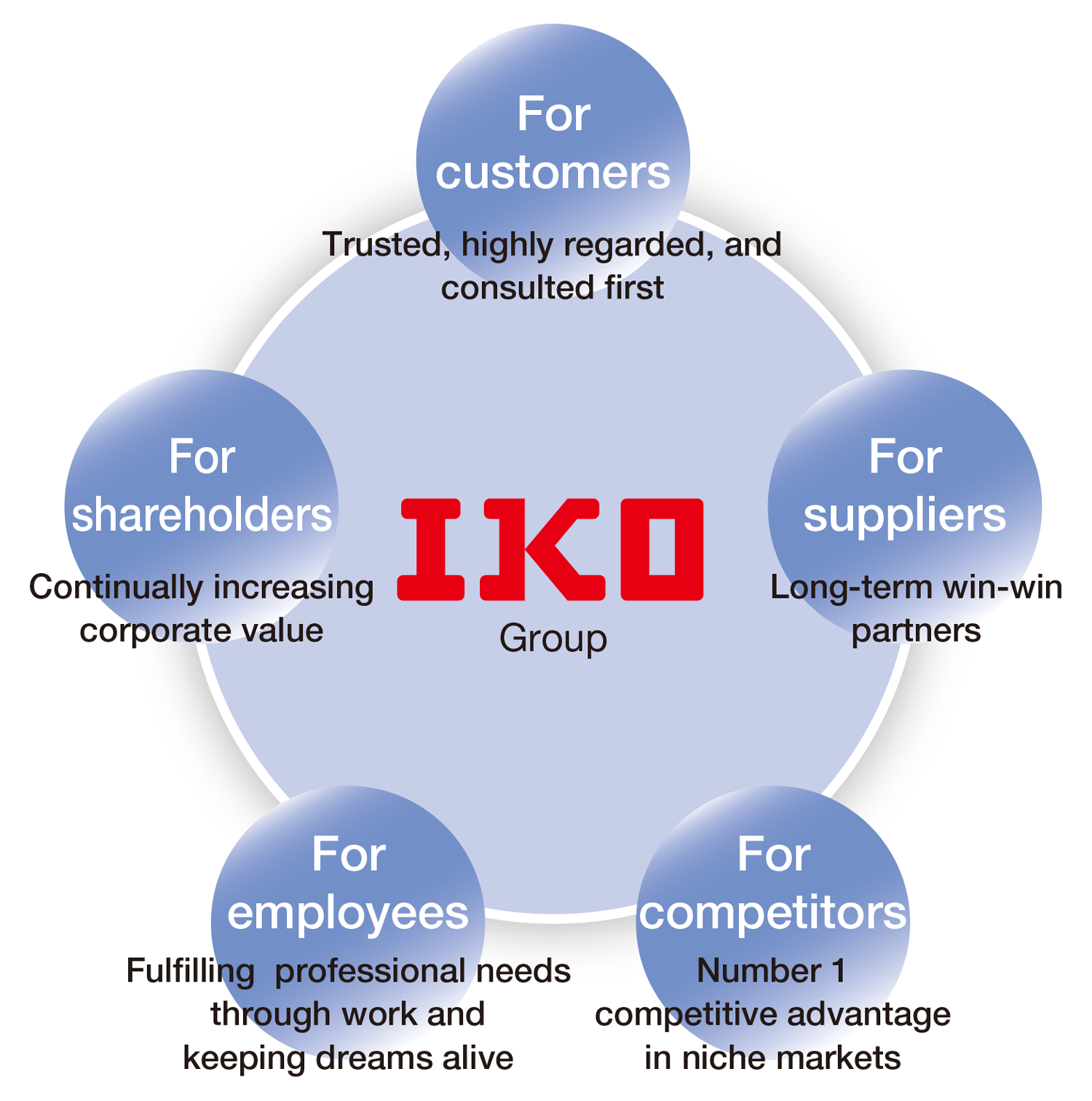 Since the formulation of our first medium-term business plan, we have spent a lot of time discussing the fundamentals of management within the Group, specifically the reexamination of our management philosophy and the design of our future vision.
First, looking at our management philosophy, the more deeply we discussed it, the more we realized that our long-established philosophy, "A Company Centered on Technology Development That Contributes to Society" accurately expresses the essential value of the Group. For this reason, we decided that we would once again promote this credo—passed down by our predecessors from generation to generation and cherished as a guideline for action—as our banner for paving the way to the future. The realization of the Group's Management Philosophy of "A Company Centered on Technology Development That Contributes to Society" is supported by the three components of our brand name: I = innovation (revolutionary thoughts and actions), K = knowhow (accumulation and use of technology and information), and O = originality (highly creative product development). Since registering IKO as a trademark in 1963, we have carefully nurtured this brand. IKO was the first in Japan to successfully develop needle roller bearings inhouse and is a symbol of outstanding technology and quality. Today, IKO is recognized as a global brand in the machinery industry, including semiconductor manufacturing equipment and machine tools, and is highly regarded as a symbol of trust.
Since our establishment in 1950, we have conducted business with the support of a wide range of stakeholders. Based on this history, we have identified five stakeholders— customers, shareholders, business partners, employees, and competitors— and have outlined the kind of company that we want to be for each of them. We have reaffirmed our aspiration to be a company that is trusted, highly regarded, and consulted first by our customers; that can continually increase corporate value for shareholders and investors; that our business partners can establish a long-term winwin partnership with; employees can fulfill their professional goals through their work and keep their dreams alive; and have the No. 1 competitive advantage in niche markets, compared with our competitors. We also reaffirmed the importance of always considering what is best from the viewpoint of our stakeholders and acting accordingly when formulating and implementing our management plans and business strategies, and have made this the cornerstone for formulating medium-term business plans.
Global society is currently facing a period of historic change, with the digital shift, the evolution of AI and IoT, and social demands for sustainability, including the SDGs. In these times, it is essential for us to take the next leap forward step by step through the steady implementation of our medium-term business plan, while maintaining the corporate culture we have cultivated as a Group. We are determined to make every effort to achieve the goals set out in Medium-Term Business Plan 2023, under the banner of the management philosophy that has been entrusted to us as the IKO brand, in order to realize our ideal vision.
Medium-Term Business Plan 2023:
Deepening, expanding, and embracing change
After implementing the third of our three-year mediumterm business plans, in May 2021, we announced Medium- Term Business Plan 2023, which will conclude in the fiscal year ending March 31, 2024. What makes Medium-Term Business Plan 2023 different from the first three plans is that it incorporates the opinions and thoughts of many junior employees. In addition to the management team, mid-level employees such as general managers and section managers, who will be responsible for the future of Nippon Thompson, were also invited to participate in lively discussions regarding the ideal state of the Group and initiatives for realizing our vision. We are proud of the fact that our plan appeals to a wide range of generations, as we have embodied in the strategies and initiatives the fresh ideas and strong aspirations that our junior employees have for the Company.
In formulating the plan, we first set IKO VISION 2030 for reaching the goal of co-creating value as a technology development based company—co-creating a sustainable future (consolidated net sales of 100 billion yen or more, operating profit of 15 billion yen or more, and an ROE of 10% or more by FY2031). We then determined our policy for the three years through March 2024 by backcasting from that goal. Our basic strategy is value enhancement and value co-creation through deepening, expanding, and embracing change. We will accelerate our efforts to create value by further deepening existing businesses that strengthen the present (deepening), the development of new technologies and new markets that create the future (expanding), and behavior change, organizational capacity change, and digital transformation to build a strong management foundation (embracing change).
We have decided not to set a numerical target for the final year, but instead to aim for an operating profit of 7 billion yen and an ROE of 7% or higher (both figures revised upward in May 2022), as average figures for the three years under review. As supply and demand fluctuates markedly in the bearing industry, where our core business is based, becoming fixated on business performance in a single fiscal year is not an ideal strategy. Considering the importance of continuing to grow from a medium- to long-term perspective while securing stable earnings, we have set the three-year average values for operating profit and ROE as KPIs (key performance indicators).
In Medium-Term Business Plan 2023, we strongly encourage all Group employees around the world to reconsider the meaning and value of the IKO brand and make it a guide for their daily activities. By taking on new challenges to further improve the value of the IKO brand, we believe that the Group will be able to move forward to the next stage of growth.
The Group's material issues
The Group has introduced a range of new technologies and products to society, in this way contributing to the development of industry and the enrichment of people's lives around the world. For example, our roller-type linear motion rolling guides—we were the first company in the world to successfully commercialize them—have contributed enormously to the development of high-precision, compact semiconductor manufacturing equipment and machine tools. In addition, a C-Lube linear way, which uses builtin lubrication, is an environmentally friendly product that achieves maintenance-free operation for long periods of time, due to its oil-minimizing construction. The Group considers it an important mission to contribute to sustainability in all aspects of society, the economy, and the environment, by developing proprietary technologies and products, and by strengthening our management structure.
Therefore, in conjunction with the formulation of Medium- Term Business Plan 2023, we have organized the material issues of our group into six themes:
(1) Implement corporate activities to realize a prosperous global environment
(2) Contribute to technological innovation by leveraging core technologies
(3) Contribute to social development by providing products society needs
(4) Provide healthy, safe, and secure environments for people
(5) Contribute to a society in which diverse people can thrive and be rewarded for their work
(6) Improve continuously compliance and governance
When tackling these material issues, we believe that there are three issues in particular that we should focus on: the further improvement of quality; the development and better use of human resources; and strengthening our corporate governance.
Looking first at quality, we consistently pursue high quality in all areas, from development, production, and sales to after-sales service, not to mention maintaining and enhancing high product quality and providing that to our customers. Quality, in the broadest sense, can also include the dedication of our employees to their work and their genuine customer service. Going forward, we will continue to further refine our superior quality, the foundation of our reliability and our customers' trust.
For human resources, we believe that employees working hard at their jobs is the greatest driving force behind the Group's sustainable growth. We will continue to focus on developing employees who will be responsible for the future of the Group. At the same time, we will revitalize our organization through initiatives, such as ensuring diversity when hiring, supporting the full participation of female employees, and by creating an environment and culture that encourages boldly taking on challenges.
For corporate governance, we have been continually working to strengthen management oversight and to ensure effective, speedy decision-making. Three of the nine members of the Board of Directors are from outside IKO, and a female independent outside director was appointed at the General Meeting of Shareholders held in June 2022. In addition, given the current status of our global operations, with numerous local staff in the U.S., Europe, China, Vietnam, and other countries, we intend to ensure further diversity by appointing overseas nationals to the management team. Governance is the foundation of all corporate activities. We will continue to improve the effectiveness of our Board of Directors and continually strengthen our governance structure.
Without risk, there is no growth; The key is to always keep challenging ourselves
Although the C-Lube linear way and other mainstream products contribute significantly to the Group's earnings, we are unable to fully meet customer demand due to constraints on supply. In addition, there are many existing product groups that can be expected to contribute even more to profits by adding new value. From a medium- to long-term perspective, it will be necessary to make capital investments, develop new products, and renew existing products quickly and effectively. I have been telling the employees of the Group the importance of taking on challenges. The same can be said for management; we also need to take on challenges. I intend to promote decisive management by taking appropriate risks where we are rewarded accordingly, while mitigating excessive risks through governance.
The global economic and social situation is constantly shifting, especially with the repeated spread of COVID-19 and heightened geopolitical risks associated with Russia's invasion into Ukraine. In addition, as I have already mentioned, the demand for our products is volatile, and it is necessary to secure an appropriate level of financial reserves to prepare for negative changes in the external environment and for market fluctuations in the short to medium term. Going forward, I will continue to steer the Company in a flexible way, while keeping an eye on both the offensive and defensive aspects of investment in growth and financial soundness.
Maximize our corporate value by leveraging the collective strength of the Group
We position the distribution of profits to shareholders as an important management issue, and are mindful of both maintaining stable dividends and adding to internal reserves. For the fiscal year ended March 31, 2022, the Company paid an annual dividend of 13 yen per share, for a consolidated payout ratio of 22.3%. For the fiscal year ended March 31, 2023, an annual dividend of 19 yen was paid, which was an increase of 6 yen, resulting in a consolidated payout ratio of 18.1%.
When looking only at fiscal years with good performance, the dividend payout ratio may seem to be low. However, we believe that the best way to respond to the support of our shareholders is to continue to pay stable dividends, as we have done even in years when the external environment deteriorated and earnings were low. We hope that you will focus on both our average dividend payout ratio over the medium to long term and on our investment in growth to maximize shareholder value.
We will continue to be a corporate group that is trusted by all stakeholders, including customers, shareholders, investors, business partners, employees, and competitors. So, the Group will invest management resources in the solid progress of the medium-term business plan, with a view to achieving the long-term vision that we aim for. At the same time, we will work to maximize our corporate value. We would like to ask all of our stakeholders for their continuous understanding and support.
---