Investor Relations President's Message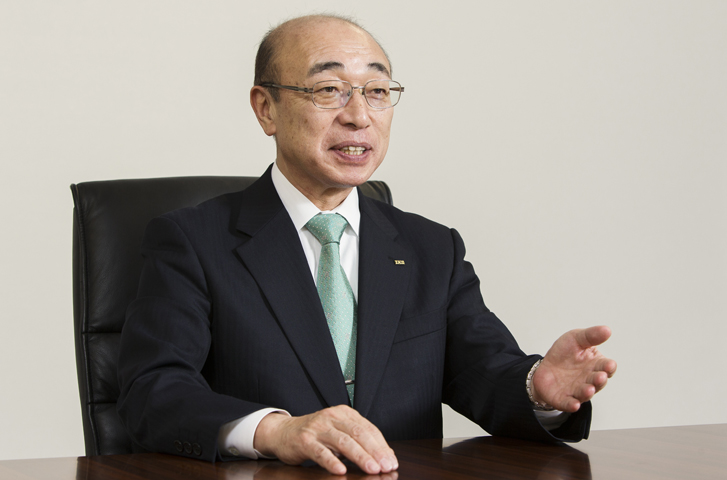 To our Shareholders and Investors
Increased revenue and profits by switching to "aggressive management"
We would like to express our sincere gratitude to all stakeholders, including our shareholders and investors, for their understanding and support of the activities of the Nippon Thompson Group.
Our group globally manufactures and sells bearings (which are important components in various machines) and related equipment under the IKO management philosophy of being a "technology development-based company that contributes to society".
In the "IKO Medium-term Business Plan 2017 (CHANGE & CHALLENGE)" covering the three years from April 2015, we strived to become a company with a competitive edge and presence in the global market. We reinforced our strategic foundation for the future when we switched to "aggressive management". We have been working on expanding our global sales base by consolidating the UBC Group, a bearing manufacturer in China, enhancing production at domestic and overseas production bases such as IKO Thompson Vietnam, introducing the "i-Plus" integrated core business system, and establishing overseas subsidiaries in Korea, Canada and Brazil.
As a result, in the fiscal year ending March 2018, we achieved sales of 55.2 billion JPY, an increase of 25.1% over the previous fiscal year due to an increased demand for capital investment in electronics and machine tool-related industries. Our operating income also increased 231.3% over the previous fiscal year due to increased sales and production.
Established higher profit structure centered on growing markets
Overall, global and domestic economies are expected to be generally strong. The electronics-related industry, which accounts for a large share of the Group's sales, is expected to boom even more thanks to robust demand for semiconductors due to the expansion of AI, IoT, etc. Furthermore, globally there are great expectations for the robotics field in which crossed roller bearings, a product at which we excel on a global level, are used as basic parts. Demand for machine parts is expected to continue expanding in the emerging market of electric vehicle conversion, medical equipment where demand is growing due to aging and growing health awareness, and machine tools where motivation for capital investment continues to be strong.
In April 2018, we launched the "IKO Medium-term Business Plan 2020 CHANGE & CHALLENGE~ Next Stage: ACCOMPLISH" to establish a higher profit structure centered on these growing markets.
In order to achieve net sales of 70 billion JPY, operating income of 8 billion and ROE of 8% or more, this plan concentrates management resources on areas with high growth and profitability. We plan to further strengthen our profit structure and achieve sustainable growth by thoroughly pursuing productivity and globalization.
In terms of sales, as market needs become more sophisticated, we will become a company that customers can consult with. This has been our long-held objective: to fully understand customer needs, enhance solution proposal capabilities by offering unique products, and strive to provide further added value.
For product development, as economic and social structures change due to the evolution of technology, we will concentrate our efforts on developing products for new markets. By analyzing information from innovations in industry, government and academia, we can identify needs in the world, and work on product development and market development accordingly.
In terms of production, we will work on improving process efficiency and automation, establishing a new construction method to maximize production supply capability and respond reliably and timely to companywide sales demand. To further enhance our competitiveness in quality, price and delivery, we will expand global procurement, increase production at optimum sites with efficient division of responsibilities and strongly promote production improvements.
Under the IKO brand, we as a group will continue to contribute to the technological innovation and social development of the machinery industry through business activities, products and services. We look forward to your continued support of Nippon Thompson.
Investor Relations
Related Information
---